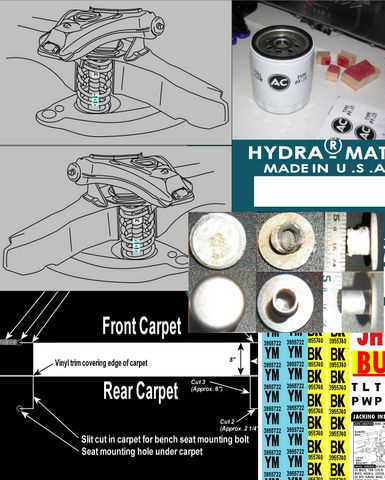 Researching the details of the 1962 - 1979 Chevy Nova
The Nova Research Project was begun to determine how Chevrolet actually assembled Novas and is an attempt to document what was normally done on the assembly line. We all know that the assembly manual and parts books are not always correct, and most of Chevrolet?s methods are lost due to the passage of time. With the number of original condition cars quickly dwindling, some of the many questions that need to be answered are:
What finishes are on the parts?
What part numbers and codes were used on different models?
When did a mid-year production change actually hit the assembly line?
What do the extra codes on the trim tag mean?
So far, I have collected some good statistical information that helps to preserve the Nova and Chevy II heritage. This information comes from original cars, original Chevrolet literature, parts books, magazine reviews, and more.
This project cannot be a success without your help. If you have an original condition Nova, send in your information for one or all of the research projects. The more cars that participate, the more accurate the finished results.
Projects: The project page includes the active and complete research topics. Most of the topics being researched are discussed on Supercar & Musclecar Bulletin Board. If you have questions post it there
Read More on the Nova Projects
Pictures: Here you can see pictures of original Novas and Novas under restoration. Pictures are submitted by people like you. Having a problem scanning your pictures or posting them for others to see? Contact me for free scanning and posting on this site. You can contribute your own articles too!
See Novas on the picture pages
Calculators and tools: I have scoured Chevrolet Literature and Parts Books and created several Spring Calculators and other Charts to help decode your Nova. There are also a few calculators for Camaros and Chevelles.
Read More on the Nova Calculators and Tools