Research Topic:
Drive Shaft Color Codes.
The drive shaft was color coded so the assembly line could identify the different applications. Different transmissions received different drive shafts. Below are two pictures of the same drive shaft. Looking close at this drive shaft it was impossible to tell there were painted stripes under the grime. It was amazing that after cleaning with non - petroleum based degreaser and a plastic scrub brush that the stripes appeared!
Research Goal:
Determine what color codes were used for the different transmissions.
If you look closely you can see a faint outline of the stripes in the top picture. The grime hid them well.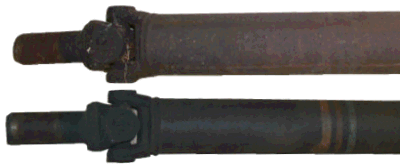 ---
Drive Shaft Color Code Survey
Please take a minute to email the information below. This Research Project relies on accurate facts gathered from people like you. These facts will be added to our database and used for statistical analysis. NO unique car or personal information will ever be released!
What is the VIN (We use this for indexing and date estimates.)
What is the Body Number? Same as VIN.
What is the date code off of the trim tag?
E-mail to be used if we have any questions.
What is the model year of the car being reported?
What is the original engine size?
What is the original transmission?
What is the axle code (or axle size, ratio, and type)?
What colors are the stripes on the original drive shaft?
Any other comments or information about your car.