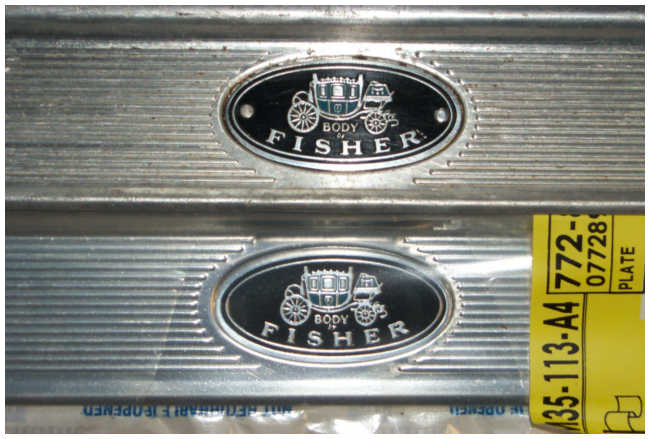 Research Topic: Sill Plate Rivets
Research Goal:
Determine when GM stopped using rivets to hold the Body by Fisher coach plates onto the door sill plate.
Were you lucky enough to find New Old Stock (N.O.S.) door sill plates for your Chevy II or Nova? Ever get points taken off at a show because the later GM door sill plates did not have the little rivets holding the tag to the sill plate? The Nova Research Project has researched when GM stopped using the sill plate rivets. It appears that Normal Observable Practice show that the switch was made during the 1971 model year. Up until 1971 sill plates were riveted. After (including many over the counter replacements) were the Fisher Body logo was glued in place. Until then we have found the correct style new rivets to add to existing sill plates. See below. I still have a few rivets. Contact me if you need a set.
Do you have an original 1971 - 1979 Nova that still retains it's original
Original sill plate on top and current production New Old Stock sill plate on the bottom. Click on the picture to go to the step by step instructions for installing sill plate rivets.